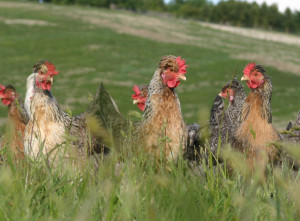 The Cotswold Legbar
The Cotswold Legbar was developed by Philip Lee-Woolf in the Cotswolds, 30 years ago when, for most people, blue eggs were a great novelty, so it's no wonder that this little hen from the Cotswolds, took the market by storm. The famous pastel coloured eggs, still sold under the Clarence Court label, are available in many of London's leading food stores, and in supermarkets across the UK. They are used by most of our top chefs including Jamie Oliver, Rick Stein, Mark Hicks, Tom Parker Bowles, and many others.
Now you can have the pleasure of your own Cotswold Legbars, and enjoy their superb pastel coloured, real free-range eggs – fresh from your garden. Why buy shop eggs when you can enjoy the real thing!
Please note – we continually work hard to improve the quality of our breeding stock, in order to produce strong, vigorous  pullets, which we are happy to guarantee. For this reason, and to protect the 'trade marks', we do not sell cockerels or hatching eggs. Cotswold Legbar hens are only available to purchase through this web site.
To avoid disappointment, beware of unscrupulous traders using our breed names to offer hatching-eggs, or 'look-a-like' hens of inferior quality.
To order: Click here  – or call/text 078 318 490 36
Delivery available to most areas, using our specialist bird courier –
or come to a convenient meeting point to collect.
The Bird
The first Cotswold Legbars were bred near Broadway in the late 1980's, using descendants from blue egg laying stock brought to England from Patagonia in 1940 by Clarence Elliott, a well known botanist, and grandfather of Martin, an estate agent in Stow-on-the Wold. Elliott's hens were given to his friend, Prof. Reginald Punnett at Cambridge University, who used them in experimental breeding programmes being carried out for the Government. Our 'Cotswolds' are auto-sexing, so the gender of the chicks can easily be seen at day-old, and contrary to comments on some forums, they are not hybrids.
Happy-go-lucky and fun loving, the Cotswold Legbar has attracted love and affection
over many years and her fame has done much to raise awareness, and interest in blue-egg-laying, and traditional breeds of hens. She provides a lively and interesting attraction to any garden, and makes a wonderful, easy-to-keep, pet, which will provide eggs for many years, if kept in good free-range conditions. The Cotswold Legbar is not suitable for keeping in a small run and if not free-range, the run space should be a minimum of 10 square metres per hen.
They have a long back and well-developed 45º tail, with an alert stance and sharp eye. Tough and resilient they are a bird for all seasons, able to thrive in most situations, living for a long time. However, they enjoy the company of their own kind & can be timid in the company of other more dominant breeds. (Note: about 10% of Cotswold Legbars lay pink or tinted eggs).
The Cotswold Legbar is only available through this website.
Beware of inferior copies from unscrupulous traders (birds or hatching eggs)!
The Egg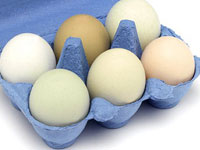 There is no doubt that the stunning pastel coloured thick shells, the deep yellow yolk, dense white, and wonderful flavour, make the Cotswold Legbar eggs very special. She is a prolific layer, producing up to 240 eggs in the first year, and up to 430 over three years. In a good free range situation, many Cotswold Legbars have lived up to eight years.
History
Clarence Elliott, explorer and botanist –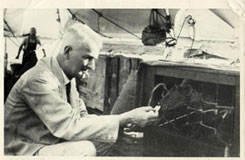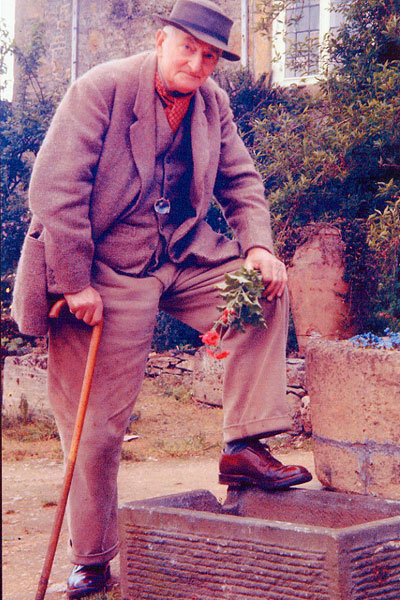 Availablity
Please note that we rear the different breeds separately to give them the best chance of normal development, so we cannot always offer mixed breeds of the same age. If growers are purchased at different ages, they must be kept separate until mature.
Priority will be given to orders of the same breed
We are taking bookings now   –reserve your Cotswold Legbars